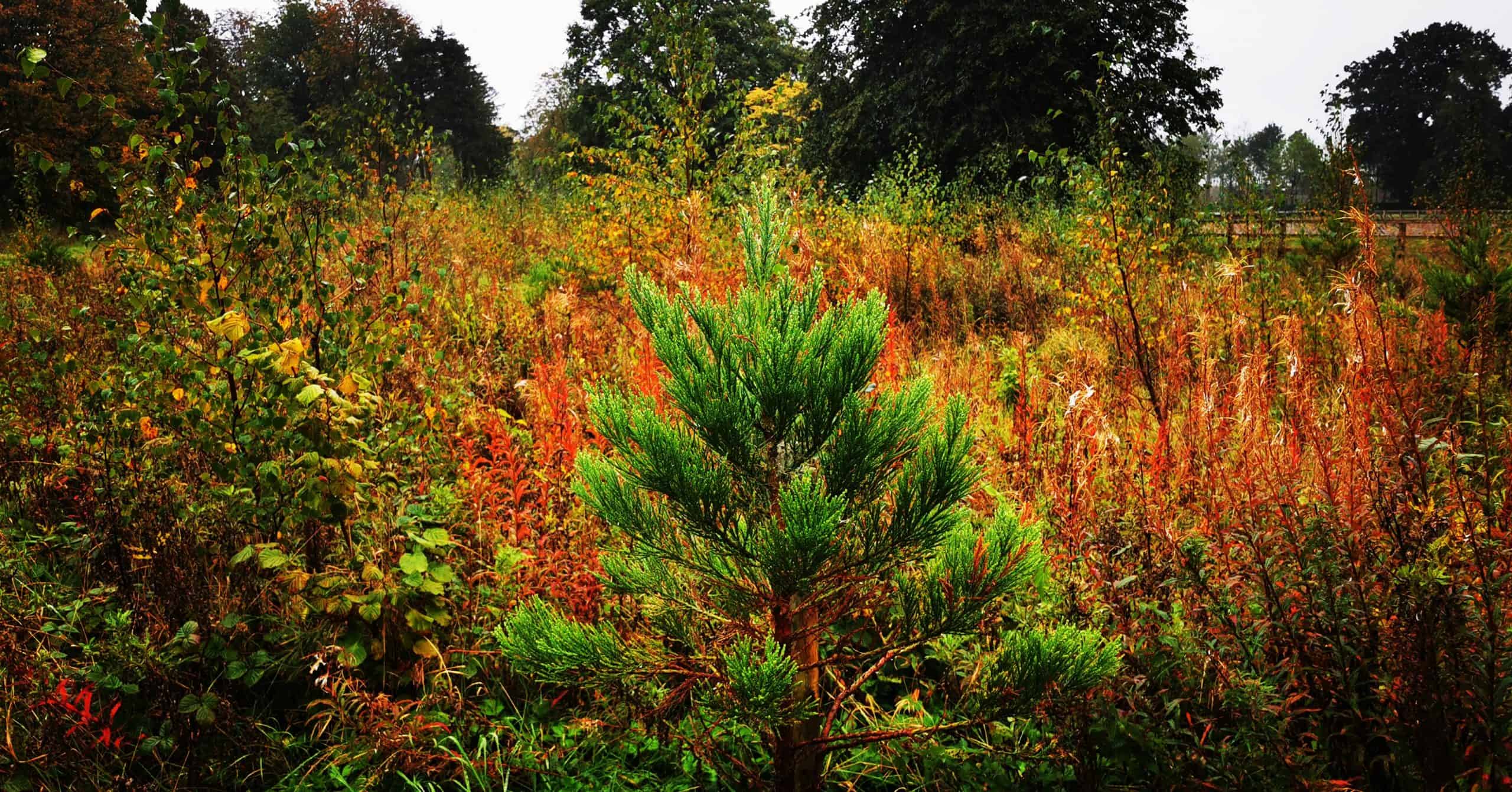 12 Apr

Forest Biodiversity at the Giants Grove
Forest Biodiversity at the Giants Grove
Forest Biodiversity at the Giants Grove. While sequoias are the 'stars' of the Giants Grove, the project is about so much more than just the Redwoods. The Giants Grove is planted and managed for biodiversity, it is an ecosystem that will continue to develop and improve as the Giants grow bigger and taller over the next 1200 years. Any ecosystem is measured by its biodiversity, or how much biological variety it has regarding genetic diversity, species diversity, ecosystem diversity, and functional diversity. Biodiversity is an enormous subject, far too large to go into in any detail here, but the Giants Grove has some interesting types of diversity, among others, that might be of interest.
Species Diversity
The Giants Grove is not a monoculture of exotic conifers, it has an enormous variety of species present, and the numbers will increase significantly over time. We took a grass field, with very little diversity, and planted a range of native tree and shrub species in the spaces between the Redwoods – oak, birch, scots pine, alder, rowan, holly, spindle, yew, juniper, and guelder rose.
We do not use herbicides, and so the area has also been colonised by a huge array of local grass, shrub, and tree species too, some pretty, some prickly, but all are welcome. As a result, all this variety has become home for more insects, spiders, invertebrates, and creepy-crawlies than I can even begin to identify, and they are all settling in nicely.
These tiny creatures have attracted larger species like hedgehogs, shrews, birds, bats, and rodents, to accompany the herbivores like rabbits and hares. These in turn are beginning to attract the larger predators to the site, foxes on the ground and buzzards in the skies above. Otters, squirrels, and pine martens are close by too, and we hope they will also make the Giants Grove their home soon. There are lots of often forgotten but equally important fungi, lichen, and algae at the Grove too, but the names of all but a handful are far beyond me.
Ecosystem Diversity
The Giants Grove is the largest Redwood forest outside of their native United States, so the site's characteristics are not uniform throughout the entire area. Differences in soil types and drainage, open spaces, wider or closer spacing, adjoining fields and forests, and rivers and watercourses, all create distinct ecosystems and habitats which add so much diversity to the Grove.
These different areas have their own biological communities which often vary greatly from each other, and the transitional areas where they meet, the ecotones, can be different again. As the Giants mature and develop, so too will these habitats, expanding or contracting over the years, or even over the seasons. This ecosystem diversity is an integral part of the Giants Grove project, as important in every way as the more obvious species diversity.
Structural Diversity
The diversity at the Giants Grove is not just horizontal along the ground, but also vertical up into the canopy of the trees. Well-developed forests have multiple layers, or habitat zones, that are very different from each other and add significantly to the biodiversity of some forests. From the ground up, there is a ground layer, shrub layer, sub-canopy layer, canopy layer, and emergent tree layer. These separate layers are separate habitats, attracting a range of species that use them for food or shelter.
Most forests in Ireland are commercial crops – monocultures of trees so tightly spaced that their uniform canopy does not permit enough sunlight through to allow any vegetation, or even their own lower branches to survive. Although only in its very earliest stage, the Giants Grove will be a very different forest, it will be a multi-layered woodland, and one of the few, if not only, woodlands in Ireland with a real emergent layer as the Redwoods surge skyward.
So, if you come someday to visit your Redwood, you might look and see the forest for the trees. How many tree species, or shrubs, or any plants can you identify? How many bird species will you hear, or how many mammal species will you catch a glimpse of? How many habitats will you walk through? How many layers are there now?
How different is the Giants Grove to any forest you have ever been to?
The Giants Grove Project giantsgrove.ie is an Partnership between Birr Castle Estate and Crann – Trees for Ireland